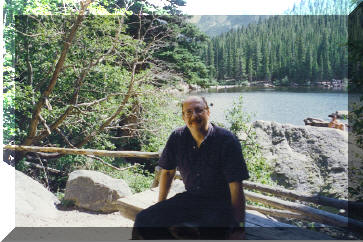 Artistic Statement
My music has a distinct visual component - not as depiction or portrayal, but rather as the visualization of an abstract, and the casting of this visualization into gestures that are aural.
Gesture, line and color (i.e.. timbre or tone color, colors of the mind, real colors) exist in a temporal dimension that is horizontal as it is vertical, fluid and rock solid, moving through time as it unfolds, sometimes suspending the temporal as these very elements become static - even tangible.
The music embodies a sense of drama and lyricism, often couched in allegory, symbolism and literary reference. Each work uses a blend of tonality, modality and chromaticism combining in a unique form of harmonic, melodic and gestural progression.
These elements, along with timbre and instrumentation, create and heighten the sense of color, shape and multidimensional expression that is so much a part of my language.
Frank Retzel --- New York City (August, 1993)
from the Gallery Exhibition Booklet for Mnemonic Conflux
Critical Comments:
An Assessment
"Since the mid-1970s, I have kept up with Frank Retzel's music, listening to tapes and CD's of his works as they became available. My opinion of his music has never wavered: it is among the most important work being written today. That Frank is at ease in the structural and harmonic complexities of modernism is obvious. But he has also taken care to fuse that mastery with a broader postmodern sensitivity, offering values of medium (e.g. sensitivity and persuasiveness of timbre) as well as of structure, and especially crucial, creating powerful linkages between music and other arts and mediums. What has resulted is a body of work with a breadth of appeal still rare in our times, meeting the standards and desires of both highly trained musical specialists and of a public with a more general education -- and good taste.
In fact, Frank brings to his composition not only his fine achievements as a composer and a superb education in the composition and history of Western art music but a stunning mastery of seemingly every art and pop style currently audible in our society."
Rose Rosengard Subotnik, Ph.D, Musicologist and Professor of Music, Brown University
A Recollection
"My acquaintance with Frank Retzel goes back to my days as an assistant professor at the University of Chicago, when Frank was a doctoral candidate. In those days, whenever graduate students were discussed or assessed, Frank was invariably treated as our outstanding student in composition and, more particularly, as Ralph Shapey's star student. Shapey said, more specifically, he had never had a student to whom composition came more naturally. Leonard Meyer had an equally high opinion of Frank; and my own impression complemented both Ralph's and Leonard's."
Rose Rosengard Subotnik, Ph.D., Musicologist and Professor of Music, Brown University
"... there came the moment of a thrilling set of songs by the composer from New York, Frank Retzel. The pieces are delightful..."
-- 2002 in Oggi, reviewing a performance of Summer Songs (translated from the Italian)
"...Smaller and more intimate in scale, the pieces cover a variety of moods...upon hearing this collection of short, evanescent pieces at the beginning of the 21st century, one is struck by their quaint melodism and use of traditional compositional procedures."
-- 2002 -- John de Clef Pineiro in New Music Connoisseur reviewing a performance of Summer Songs
"... an artful focus within the variety."
-- 2003 -- Barry L. Cohen in New Music Connoisseur reviewing a Lincoln Center concert of several works of Frank Retzel
"With the setting of two poems by John Hollander in Reflections, Frank Retzel may have found his artistic soul mate. Retzel is deeply taken, and he confirmed in his brief comments during the intermission that the poet and composer may come from a different perspective, but there is the opportunity for an interesting partnership."
-- 2003 -- Barry L. Cohen in New Music Connoisseur reviewing the Lincoln Center premiere of Reflections
"Three Songs To Poems of Seamus Heaney, by Frank Retzel, were well-wrought and attractive, in the mainstream of today's musical language. The composer caught the spirit of the poet admirably, and vocal and instrumental parts were well balanced... full of life, with imaginative vocal lines and piano parts that were assertive and forthcoming."
-- 2004 -- Leo Kraft in New Music Connoisseur reviewing a League/ISCM concert with Elizabeth Farnum and Christopher Oldfather at Symphony Space (NYC)
"The European premiere of Landscapes by American Frank Retzel was the interesting part of the evening... fascinating..."
-- 1998 -- Suddeutsche Zeitung, reviewing a concert by Barry David Salwen in Munich (translated from the German)
"The public was enticed by Barry David Salwen into a "Meadow Walk," courtesy of Frank Retzel's freshly written Landscapes, dedicated to the pianist, in which the sounds of green still glitter... full of intensity..."
-- 1998 -- Munchner Merkur, reviewing the Munich concert of Barry David Salwen (translated from the German)
"Frank Retzel's cycle of piano pieces, Line Drawings and Earthen Clay Figures, is comprised of two books, Sketches and Designs in Terracotta... Retzel's linear sense produces wonderfully fuzzy thickets and tangles not to be penetrated as much as taken in as a gestalt. Recurring harmonic motifs in Sketches link the six short works like six views of the same subject. Designs in Terracotta, written five years later, is a set of five pieces, again miniatures. Moving quickly then, both through each piece and between them, one has the sense of sketching and making things take shape, the visual afterimage of the previous piece superimposing onto the present one. ...Both sets of pieces [have] a freshness and immediacy that makes the listener want to hear them all again."
-- 1996 -- Michael Dellaira in New Music Connoisseur reviewing Barry David Salwen's Recording of Line Drawings and Earthen Clay Figures for Opus One CD
"[writing of finding Horae on a recently released disc] recalls the heady, idealized days of three or four decades past. Then, composing insinuated a vision of an exciting musical future and new paths."
"... with David Shuler as capable apologist, [Retzel] makes this fascinatingly terse exploration of the 'hours.' Much as in the Christian context of canonical prayer, Retzel invokes secular, mythological spirits. For such an explicitly worldly and literary program to sound upon which Berlioz termed the 'Pope' of instruments comes as unmitigated refreshment."
"... an absorbing and bracing look backward to those who looked forward."
-- 1993 -- Haig Mardirosian in The American Organist reviewing David Shuler's recording of Horae for Opus One CD
"... Anamnesis is stunning, with its sonorities and variety of ideas, and is definitely worth hearing."
-- 1992 -- "Music Reviews" in The American Organist
Excepts from George Boziwick's article "The Tangible Moment: A Profile of Composer Frank Retzel," on the composer's work, especially the Sacred Choral and Organ Compositions:
"...the listener is both broadened and inspired by the range of sacred and secular ideas Retzel brings to his music. His choral works, each distinctively different, reflect a variety of musical and intellectual influences."
"Retzel cuts his own path, and that individuality is what informs the piece. Anamnesis has its own momentum, which compels the listener through dark textures and out into the light of repose and resolution. Yet simultaneously within this repose, a sense of musical climax is perceived, whether it be in the sound of a single pitch, sustained in prayer, or in the breathtaking aftermath of a massive chord.... the results are extremely satisfying."
"Acclaim With Joy... is a work that is tender and at the same time celebratory, while his Jam sol recedit igneus... creates a beautifully contemplative atmosphere of thoughtful praise that is transformed by the bells into a climactic moment of joy and inspiration."
"...Retzel has maintained a path that allows him to cross boundaries, sometimes fusing contrasting elements simultaneously to great effect. The philosophical idea of holding parallel and often opposing ideas up to the light creates tension in Retzel's music, but it also reveals much to the listener. Retzel carries this same formula into the secular realm as well in a variety of works. His song cycle Daughter of Dawn explores equally the sacred elements that bind our secular lives. Canticles is a major concert piece that is imbued with the same care and concern one would accord a major sacred work such as a Mass. While the piece is not liturgical, it aspires to create an atmosphere of the most holy. Trinity layers the human with the divine, from the godly love of agape to the most basic levels of human interaction."
-- George Boziwick, "The Tangible Moment: A Profile of Composer Frank Retzel"
published in The American Organist, November 2003